"How are you doing with not being able to go to movies right now?"
I think I lost track of how many times I was asked that question. I'd say my reputation is well-known for going to the movies. It's a valid question and the fact is, I was doing ok. I'd been keeping up by watching old favorites and movies that I've had on my watch list for a while. In addition, I found some new recommendations and tried some movies I'd never heard of. The thing is though, as much as I enjoy the movies, the idea of going into a dark theater where there are no disruptions (at least there's not supposed to be any) is part of the allure for me. I can escape from reality for a couple hours and lose myself in a different world. Sitting in my comfy chair is nice and there's the advantage of grabbing a snack or pausing for a text message or any number of things but that's just it, there's disruptions and besides, the screen size isn't anywhere close to the theater and even though I like my sound system, most movie theaters have pretty good sound.
One of the questions that I asked myself is, "How far would I go if there was a movie to see?" I've checked all over Minnesota for the last few weeks and even bordering states to see if there were any options. Nope. I had heard about a few drive-ins that had been opening up across the country to pretty decent success as they were the only option right now. The movie selection was usually older films but it was the idea of getting out to see a movie.
As it turns out, the answer to my question is…119 miles.
Shakopee to Litchfield via St. Cloud.
If you're so inclined to read about it, here's the story.
I figured that going to a drive-in was going to be my best bet but even then my options were limited. If I was going to go then I was going to find a movie that I wanted to see and even preferably see a double feature. Elko Speedway is the closest but the movie choices lately have been pretty uninspired. I just couldn't do the latest Star Wars movie again, even now. A few others around the cities also had some selections but nothing really did anything for me and they were also just single features. Then, I came across the Starlite Drive-In in Litchfield. I had a vague idea of where it was but when I checked on a map to find that it was 90 minutes away I began to think it might work. The next hurdle was to find a date that would work. I've had a pretty much running appointment on Saturday mornings so Friday night wasn't going to be good. For the most part Saturday afternoons and evenings were filled so that would be tough too.
The weekend of June 13<sup>th</sup> set up a little differently. My Saturday morning responsibility still was standing but my Saturday afternoon/evening time got shifted to Friday night. I spotted a potential opening. I checked out the listings for the Starlite and the double features were Grease/Footloose or The Hunt/The Invisible Man. I think this might work. The Hunt will be in my Top 5 of 2020 no matter what else comes out this year. I enjoyed it that much. The Invisible Man wasn't great but it was better than I thought it would be. I really wanted to see Footloose but Grease just wasn't doing it for me. I decided on The Hunt/Invisible Man and began to work on the rest of the details. If the gates opened at 8 PM then I would need to leave my house by 6:30 PM and I could plan on getting back to my house about 3:30 AM. The drive there would be fine but I was unsure what the drive back might be. Getting tired on the road is one of my least favorite things to do so I needed to come up with a solution. I checked for larger cities near Litchfield and found that Albertville was a little over an hour away and St. Cloud was 45 minutes. St. Cloud would require a little backtracking but it might work. I checked hotel prices and came across a pretty good deal for a Saturday night. I asked a few people if they might be interested in going and though they didn't laugh in my face directly, they did question my sanity. My wife agreed to go with me as long as she didn't have to go to the movie and she could just go shopping at the malls in town.
So, Friday night, after dinner with the family, I packed things up and got everything ready so as soon as I was done on camera on Saturday morning then I'd be on my way. I ordered a portable radio from Best Buy and got it picked up. I loaded up on snacks and got ready to go. An old office chair was the perfect option for seating so I took off the legs and I had my "recliner". At 12:30 on Saturday afternoon, we were on the way. At a bathroom break in Big Lake I picked up an essential…bug spray. I had seen several notes online that you just can't forget bug spray at a drive-in. Sounded like good advice to me. We got to St. Cloud about 3:00, checked into the hotel and then I dropped her off at the mall. I went back to the room to try to get a quick nap in since it would be a very late night/early morning. Well, I couldn't sleep, imagine that. What I did do was change my mind. I began considering what movies I was going to go see. I had it in my mind that it would be The Hunt/Invisible Man and that is what I had told people who asked. As I thought about it more though I thought about how I had re-watched the Hunt less than a week ago and Invisible Man was just ok. I really had never seen Grease all the way through and I really wanted to see Footloose. So, somewhere about 6:00 PM, I changed my major. It was going to be Grease/Footloose.
I picked up my wife at the mall, grabbed a quick sandwich and then dropped her off at the hotel. It was a 45-minute drive and since the gates opened at 8:00, I thought that leaving by 7:15 was a good idea as I didn't know how busy they'd be. I brought a book to read and a movie on my tablet so I was covered if I had time to kill. I plugged my destination into Google Maps and it sent me into the wilderness. Though I actually only made 3 turns on the whole trip, I was wondering if Google Maps was sending me to an axe murderer's house, ala The Texas Chainsaw massacre in the middle of nowhere. The roads that weren't gravel were barely traveled by anyone anyways. I saw more roadkill than people and the one small town that I drove through had a bar that displayed its distaste for the governor by putting out a sign that said, "Walz, You're killing us!" I made what was indicated to be my last turn and it said I'd be going straight for the next 8 miles and my destination would be on the left. As flat as the land was, I figured I'd see it a few miles away as the only thing that I passed for the first 35+ minutes were fields of corn, soybeans and other crops. I killed a few billion bugs with my windshield and then realized why some people recommended that you bring windshield cleaner and towels to the drive-in, so that you can see out your windows when you get there.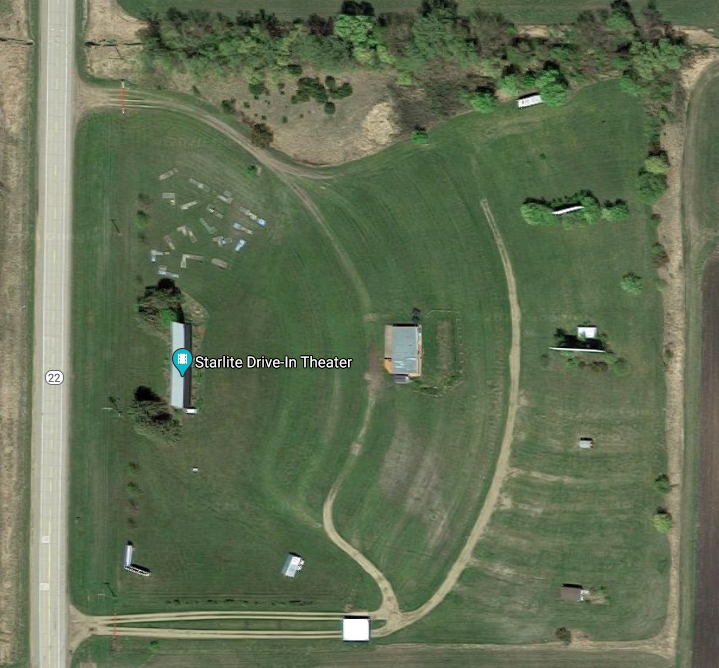 As I neared where the drive-in was supposed to be I could still only make out green fields on all sides. Then, up ahead was my first jolt of reality. A line of about 75 cars was turning right into a small little dirt driveway. I arrived at this driveway at 8:01 and I was fortunate that I was the only vehicle coming from the north and that someone was kind enough to let me turn in in front of them. As I turned off the main road I could now see the 2 screens as they had been shielded by groves of trees from the road. 2 lines snaked toward a small building where ticket attendants were making quick work of selling tickets for each of the 2 screens. I got to the front, paid my $8 and went with my revised plan of Grease and Footloose. The rows were filling up quickly but I found a spot a few rows back, near the center that had a nice sightline to the screen. I drove over the hump and rested the bed of my truck so that it slanted toward the evening skyline.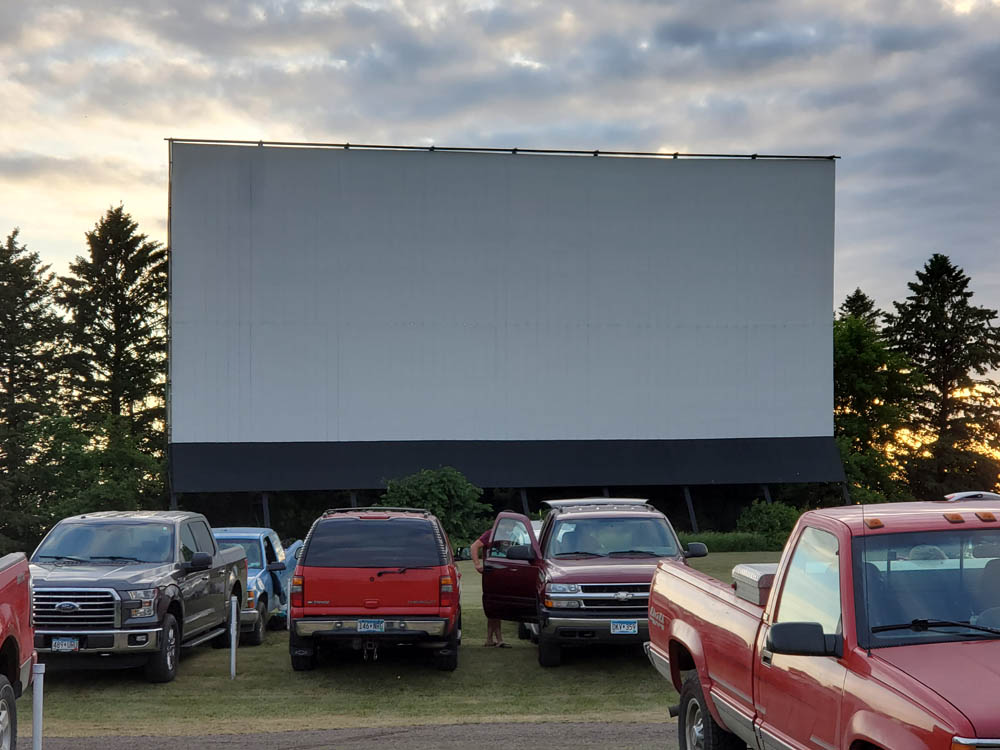 The temperature was 71 perfect degrees. It was a bit windy but that was going to be ok. I began to unpack my supplies and set up for the evening. A couple beverages, a few snacks, my book and radio and I was ready to go. I dropped my 4 AA batteries into the brand-new radio and dialed it up to the 90.5 frequency needed for my screen. I settled back into my chair and sipped on an ice-cold drink and read some in my book as I waited for the magic time of 9:30 to come around.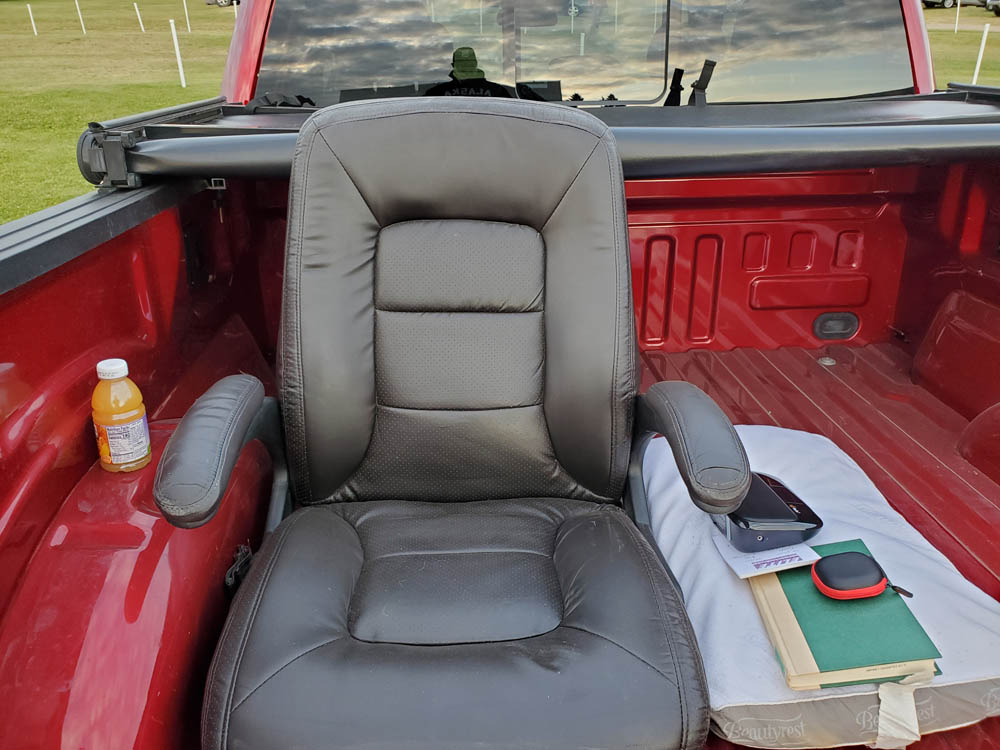 The cars kept coming and coming and somehow they kept finding room for them all. Litchfield is a town of barely 6000 people and I would guess this was the busiest place in town by a very long shot even though it's 5 miles out of town. About 8:45 I figured I'd use the bathroom so I wouldn't have to again later when it's hard to say how busy it would be. I got to the building with the restrooms and concessions to find 2 very long lines. One for concessions, one for the bathroom. Fortunately, both lines moved pretty quickly and by only needing to use the men's room, I jumped ahead in line as soon as the guys in front of me were done. It was no surprise that the line for snacks was long as the food looked great and the selection was decent. The smell of the mini-donuts wafted through the air and the sweet scent mixed with the popcorn made everything right in the world. Also, the fact that a popcorn was 2 bucks and another buck for a drink made me think I'd landed in a Twilight Zone episode somewhere. The website bills the drive-in as "no-frills" and it isn't fancy but it's got everything a good drive-in needs.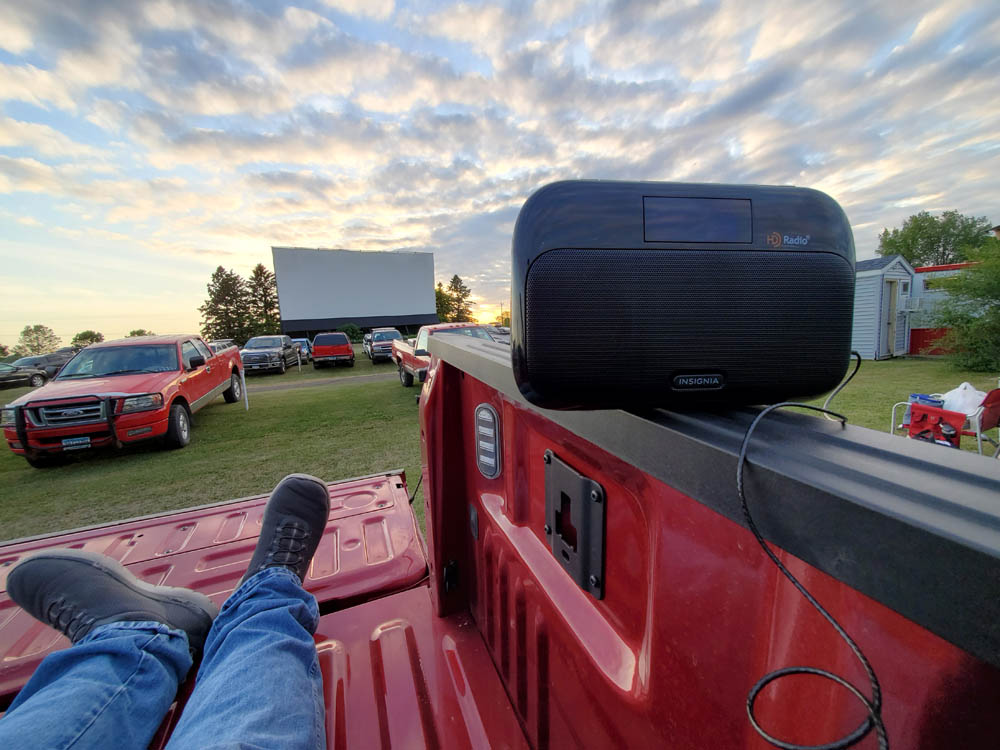 The last time I had been at a drive-in was in 1996 when Twister was out. I took the family on a stormy night and we saw Twister in a thunderstorm. THAT was close to perfection. The lightning on the screen was augmented by the lightning in the background. There was no way to tell if the thunder was from the movie or in real life. It was great!
As the sun set behind the movie screen, the sky was filled with a gorgeous array of color mixed into the swirling, sparse cloud cover. The atmosphere of the whole place was electric. People were laughing and having a great time. There was no need to remind people to silence your phone because you probably didn't have much phone network anyways so there weren't going to be many phone interruptions during the night. A steady breeze kept the bugs away and if you were going to create a perfect night to see a movie at a drive-in, it couldn't have been much better.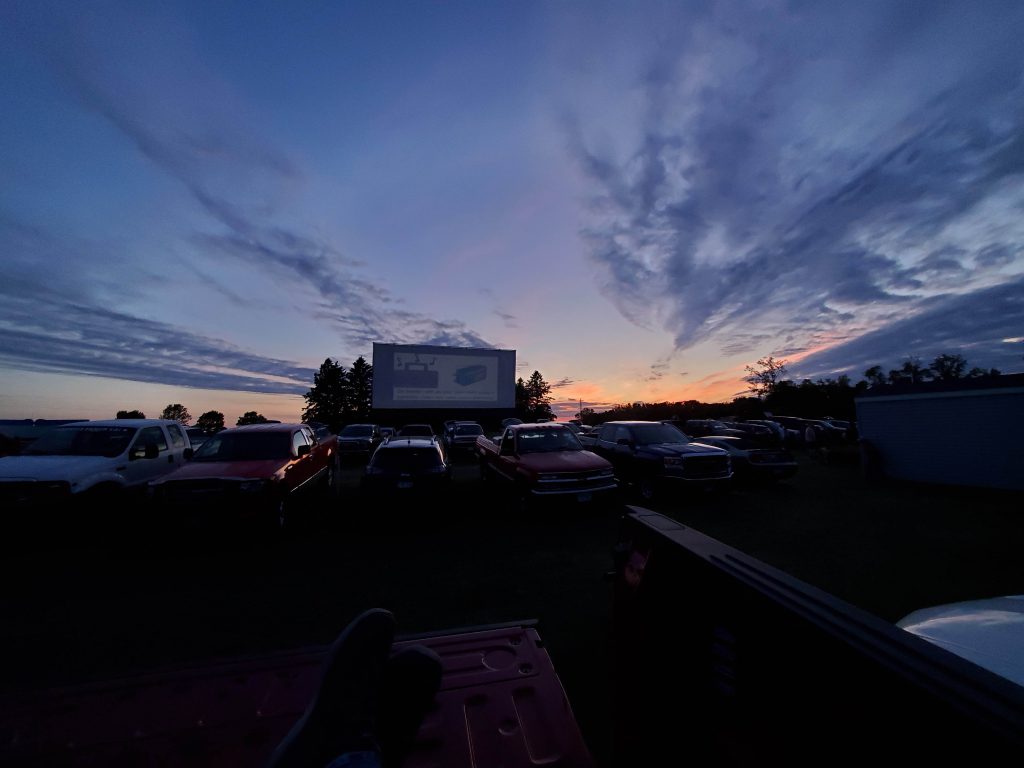 At about 9:15 a truly awful PowerPoint presentation advertised hot dogs, popcorn, mini donuts and all the different kinds of snacks available. Then, a couple minutes after 9:30 there was a countdown on screen and the familiar Paramount movies logo appeared. Even though it was 30 minutes after actual sunset, the sky was still bright enough that the image was a little tough to see but no one cared. The cartoon credits for Grease began to start along with the skippy music and the night was on.
Fortunately, I gave some forethought to how I'd listen to the movies. Playing through the truck's speakers wasn't a good idea for several reasons. First, I didn't want to drain the battery. Second, if I was sitting in the bed of the truck, I wouldn't hear the sound very well anyways. I had picked up a small portable digital FM radio from Best Buy. With 4 AA batteries inside and another dozen on stand-by, I figured I'd be ok. I plugged in the headphones and the stereo sound was absolutely perfect. I could have played it without the headphones and those around me would have heard it too because everyone had their own way of listening, but this way I could make it as loud as I wanted.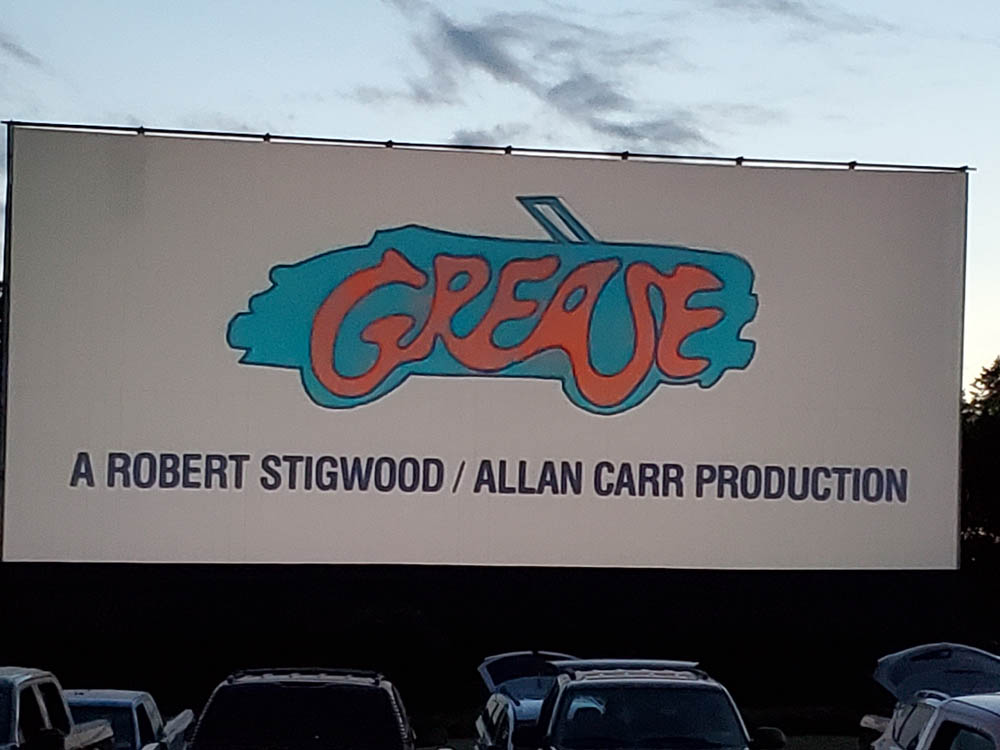 As I mentioned, I'd never seen Grease all the way through before but it was pretty much what I expected. Danny and Sandy and the kids at Rydell High. Of course, it was all very true to life with people spontaneously bursting out in song and dance on the football bleachers or in an auto-body shop. It didn't matter though because it was all about the music. It finished up near 11:30 and a few people took off. Even though it was intermission, people did their best not to shine bright headlights all over the area.
Side note: I don't know who picks the intermission music at the Starlite but they scored big points in my book. There were a million different ways to go for the music that played over the cheesy concession PowerPoint but they actually played 4 tracks from Steve Winwood's Roll With It album. A BIG win to me. I have about a dozen actuals albums in my collection and that is one of them. Great, great music from one of my favorite artists.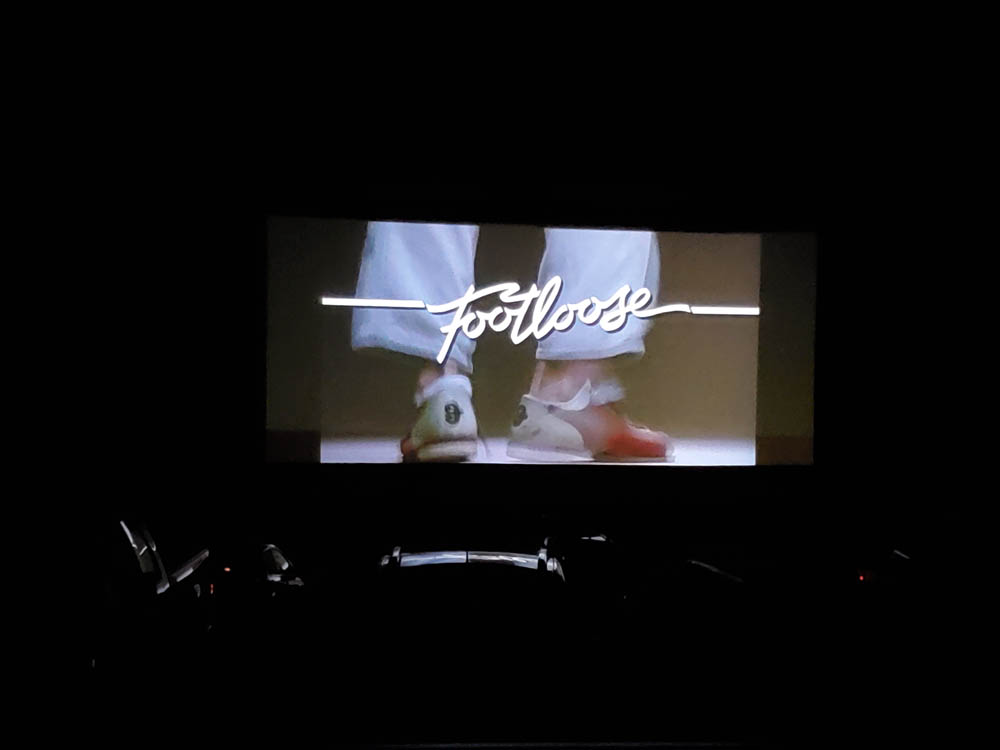 A little after 11:30 the music and shoes from the opening of Footloose made their appearance. Now, I'm not a fan of what would be considered a typical musical like Grease or other movies where people just start singing for no reason. I get it that it's a movie but that's just not my jam. "Musicals" where the music is a huge part of the scene or background are more of the way I like it. Footloose is a perfect example. Flashdance is another. A couple times during the movie I found myself just closing my eyes and soaking it all in. As the tractors race toward each other and Bonnie Tyler belts out, "I'm Holding Out For a Hero", it just gives me goosebumps…well, that and the 20 mph wind and now 60º temperature.
At around 1:30 AM, Footloose finishes up and the cars start to slowly leave the grounds. The other double-feature had finished about 15 minutes sooner so most of them were gone already. Everyone was orderly and quiet and made their way back onto the country roads to get them back to their destination. I jumped back on my road headed toward St. Cloud with a 45-minute drive ahead of me. I didn't expect to see much traffic and I did only see 2 cars the entire way back. I for sure didn't want to see any animals in the middle of the road as I clipped along the very dark streets. Lastly, I wanted to stay awake for the drive back since it was 2:00 AM. Using my iPod I played a few songs from both Grease and Footloose as well as a few others from Olivia Newton John. It actually went pretty quickly and I found myself with the lights of the city in front of me in no time.
I pulled into the hotel parking lot and my drive-in experience had drawn to a close. A sense of satisfaction washed over me as I sat in my truck for a couple minutes. It was such a fun night. Sure it would have been nice to have someone to be there with me to reminisce about it but it was what it was. Regardless of all the planning and driving and work that it all required, I'd do it again in a heartbeat. Jurassic Park and Jaws are showing this weekend. Anyone want to go?